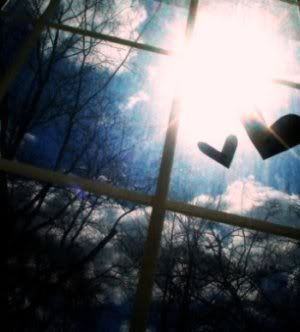 Let me just start out with this: I can't write poetry for crap. No kidding. So last year during English we had a poetry unit. And mine were okay, sure they sucked. But I did write one poem that I absolutely loved, and I thought, for me, this was actually pretty good.
I had forgotten about this poem until I found it in my closet today. So, just so I don't lose it again, here it is:
I looked out my window,
the sky turning black.
The frustration and anger
that made me hold back.

I wanted to tell him,
to tell him the truth.
I wanted to show him
how much he made me hurt.

I looked away, remembering the pain,
the blood boiling throughout my veins.
I took a walk to shake off the anger.
I didn't think I could take it any longer.

But then I saw him, his face in my head,
I'm thinking of all the fun we used to have.
I missed it all, but mostly him.
Without him, my world turned dim.

Pretty good, eh? At least I thought it was. :)
Peace.
~*::♫♪♥'.victoria.'♥♪♫::*