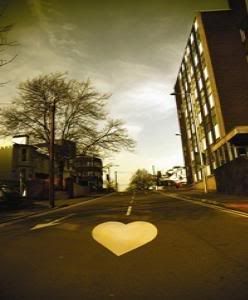 So today's my last day of winter break, and I know I should probably update this. But I have nothing to talk about. :(
I could just ramble on about
him
, which I think I will, only because I had the most amazing dream about him last night:
So we were in world geography
and we were talking to our one friend, the girl who always calls him gay. Then she left, so it was just me and him, with only a few other people in the room around us, but they weren't paying any attention to us. We stood up, I don't remember why, and we were just looking at each other. Then he told me how short I was, which he almost always does. :) Then we were talking...then he leaned down...and we kissed. It was a very long one at that. :) Then we just looked at each other. Then it went into this whole other dream which I don't even remember, I was still trying to get over the shock of the first one. :)
Definitely one of the best dreams I've ever had, mostly because it seemed so real. I could feel him there...it was amazing.
The only big disappointment: his eyes were a blue-grey-ish color. Which were still amazing, but then I looked up blue-grey on-line, which didn't work out. So I just looked up grey, and this is what came up:
"Grey indicates fear, fright, depression, ill health, ambivalence and confusion. You may feel emotionally distant or detached."
Wtf?! I just don't understand it. But whatever. It's probably not true anyway.
I can't wait for school tomorrow. It should be sorta fun, seeing everyone again. I don't know how I'm gonna wake up, since I've been going to bed around 2 every night and waking up around 10, 10:30 everyday. :P
Peace.
~*::♫♪♥'.victoria.'♥♪♫::*